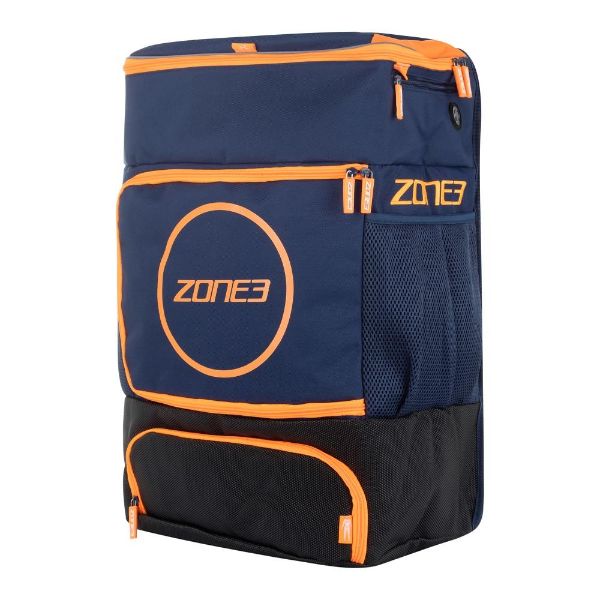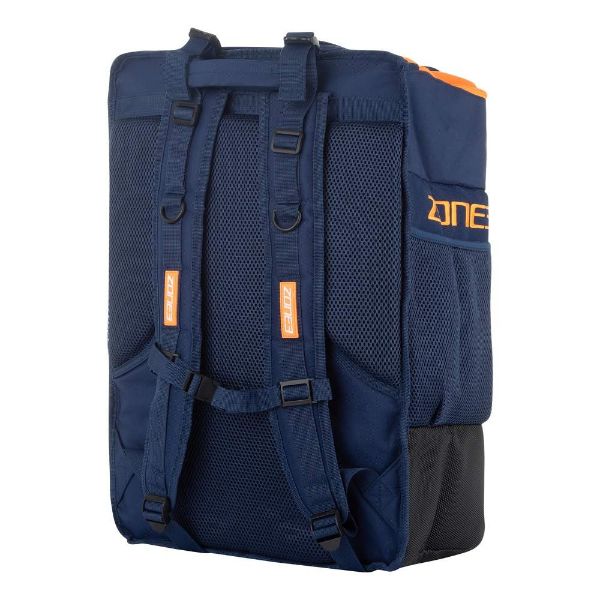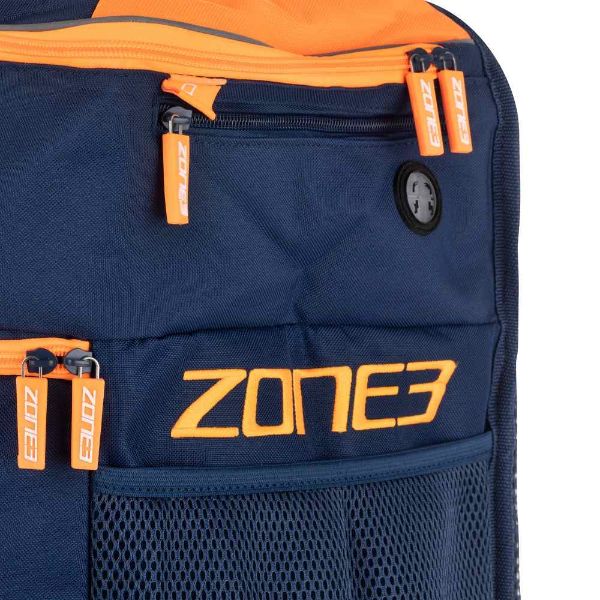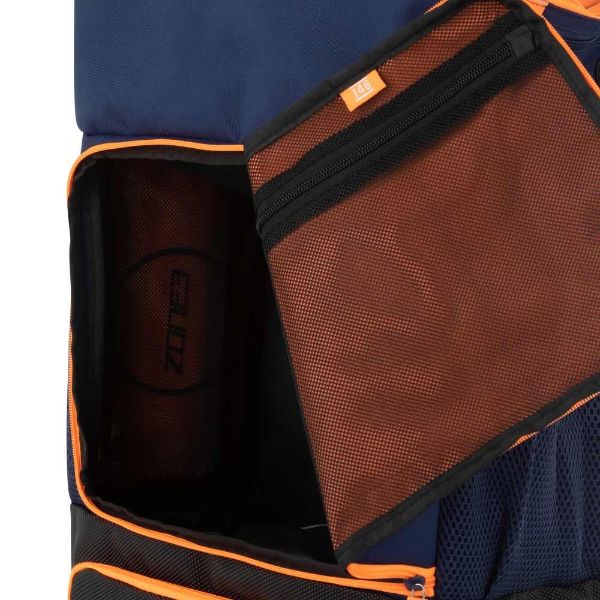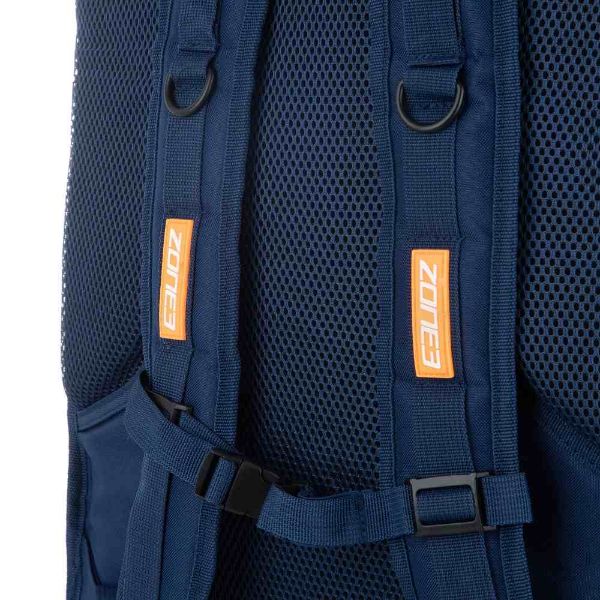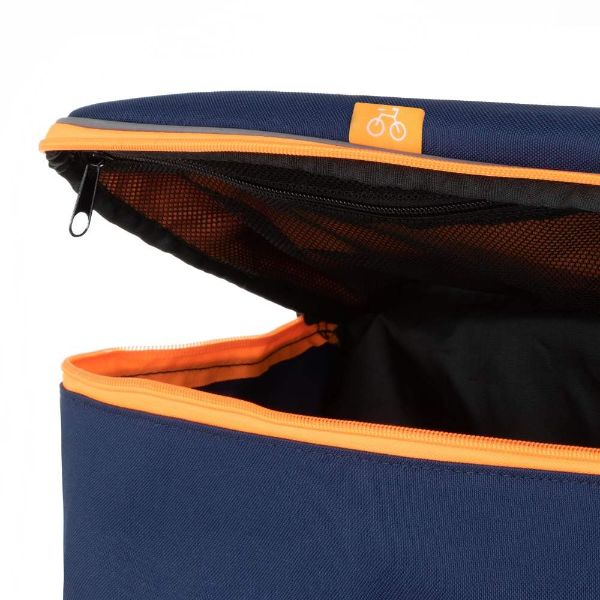 ZONE 3 - Award Winning Transition Backpack (Navy / Orange)
给我们发送有关此产品的电子邮件
DESCRIPTION:
The multi-award-winning ZONE3 Transition Bag has been carefully engineered to fit all your triathlon gear into one stylish and comfortable product, meaning less to worry about come race day. Featuring 3 main sections to accommodate the 3 disciplines, the bag has a wealth of purpose-built features.
What makes the Zone3 Transition Bag different?
Boasting a 40-litre capacity and an innovative design that makes it much more than just a bag to carry kit in. The transition bag has been cleverly designed so that each compartment is accessed independently to help maximise space and functionality.
We found that most backpacks on the market were not sturdy enough to remain to stand unless the bottom section was being used or there were no compartments. In our unique design, we have tailored the inner linings between each compartment so they can naturally flow into the compartment below, ensuring it can stand strong regardless of how full or empty it is.
BOTTOM WETSUIT COMPARTMENT:
With a fully waterproof & flexible inner lining and durable outer fabric, the wetsuit storage area makes the ideal place to store your wetsuit when travelling to and from events and training. Made with some of the most advanced waterproof fabrics around, the inner lining not only makes sure the rest of the bag stays dry but also folds flat when not in use to further expand the main compartment. The outside of the compartment features a tough and durable material designed to withstand everyday wear and tear and all weather conditions.
Outside: 100% waterproof and durable exterior material.
Inside: Expanding 100% PU-coated waterproof lining material with thermo-bonded seams.
Suitable for a wetsuit, Tri suit and other small items.
MAIN COMPARTMENT:
A large main compartment in the centre of the bag caters for all your tri clothing, casualwear, shoe & accessory needs. The compartment opens outwards to feature multiple contrast-lined interior pockets for easy access to accessories. This compartment also features a fully waterproof removable pouch to separate any wet or dirty items you may have or keep important documents such as race documents in before the event. The compartment has also been designed to expand into the lower wetsuit space when not in use, allowing for further expansion and storage. On the exterior of the bag, there are two large mesh bottle holders, perfect for sports bottles of any size to keep you hydrated throughout your training & racing.
Inside: Zipped mesh pocket for goggles and accessories
Inside: 100% waterproof removable PVC wallets for small valuable items.
Inside: Back of the flap features a mesh pocket for race numbers and information.
Outside: Two large, soft mesh pockets perfect for drinks bottles.
Suitable for shoes, clothing, towels, accessories, and drinks.
TOP COMPARTMENT:
A zipped cycle pocket at the top of the bag is the ideal storage place for your cycle helmet and shoes, always keeping them safe and easily accessible. The premium mesh inner lining also ensures your kit stays in pristine condition, while the built-in phone pouch gives you hands-free access to your music throughout your travels. The rear of the bag features ultra-comfortable padded & adjustable shoulder straps as well as a padded back panel to ensure maximum comfort whether you are travelling 5 miles or 5000.
Inside: Soft and flexible mesh lining.
Inside: Back of the flap features a mesh pocket for race nutrition.
Outside: Reflective piping around the top for improved visibility during low light levels.
Outside: A fleeced music device pocket with an earphone outlet
KEY FEATURES:
Double winner of the 220 Triathlon Best on Test award Best Value.
Unique ergonomic design for clear storage and simple organisation.
Separate compartments for all the items you need for training or race day.
Extremely comfortable padded back support & shoulder straps, using 3cm thick foam with breathable mesh casing for comfort and cooling.
External smartphone holder with earphone outlet.
Mesh drinks holders.
Reflective piping.
Chest straps for tighter fit when needed on the move.
Option to strap a helmet onto shoulder straps plastic D-rings during transport.
Height 53cm, width 22 cm and length 34.5cm.
Total capacity of 40 litres.
Perfect size and fit for airline carry-on luggage.