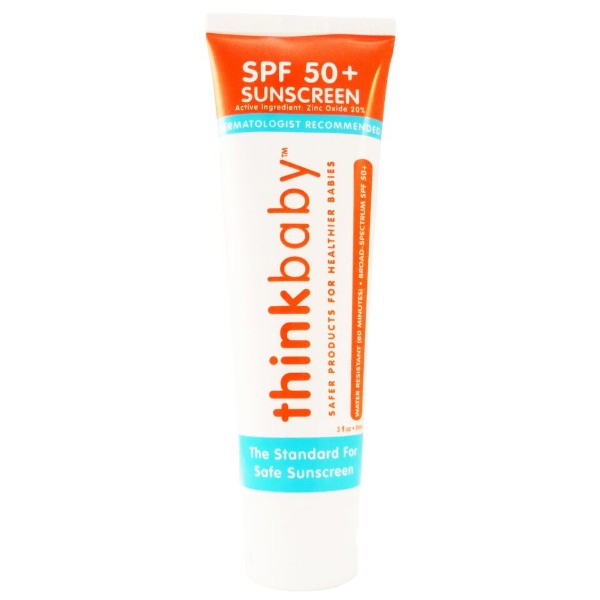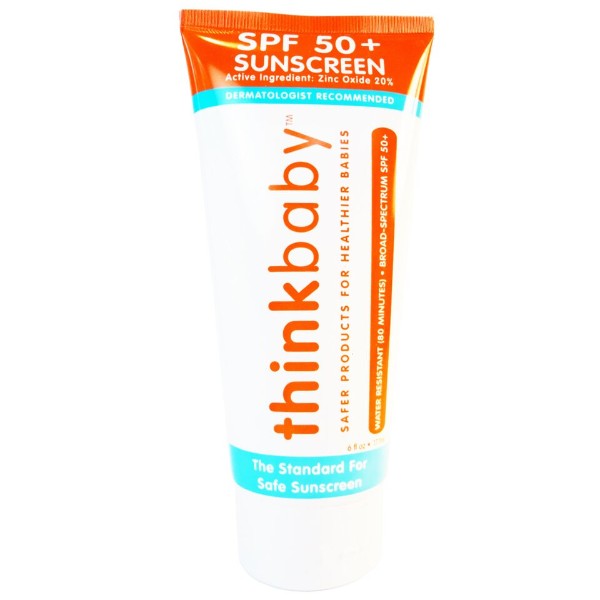 THINKBABY - Safe Sunscreen SPF 50+
给我们发送有关此产品的电子邮件
First Sunscreen to pass Whole Foods Premium Care Requirements
Top Rated by EWG with a "1" rating since 2010
Free of biologically harmful chemicals. No Avobenzone, Oxybenzone, or UV Chemical absorbers.
SPF 50+ (Highest allowed by the proposed FDA 2012 Monograph)
Broad-spectrum UVA and UVB protection  (Highest allowed by the proposed FDA 2012 Monograph)
Water resistance (80 minutes)  (Highest allowed by the proposed FDA 2012 Monograph)
Non-nano zinc oxide - Average particle size >100micron
Non-aerosol formulation (High concern of both ineffectiveness and particulates being inhaled)
Paraben, phthalates, PABA and 1,4 dioxane free
Applies and absorbs easily.  Non-oily feel.
Sunscreen produced in the USA
Does not have an obtrusive smell that many organic sunscreens have.
A member of the Safe Cosmetics Campaign Compact
Founding member Sun Safety Coalition
Gluten-free  (third-party verified)
No animal testing (Leaping Bunny member)
More awards than any other sun care line
Packaging
Thinkbaby and Thinksport  sunscreen comes in 3oz and 6oz tubes made of environmentally friendly packaging that does not contain BPA, vinyl, or phthalates. The packaging and contents are environmentally safe.
Each tube is marked with an expiration date.
Note: The base formulations of our sunscreens are identical.  We set out to make the most effective safe sunscreen possible. It didn't make sense to make one safe for babies, and a harmful version for adults.  While this seems obvious, you should check out what the major brands are doing.
Compare your sunscreen's "safe" ingredients to ours.  The best way is to check out The Environmental Working Group's database Skin Deep  
http://www.EWG.org/SkinDeep

The ratings for each ingredient are listed separately below. Our sun care products have been "1" rated since 2010!

Ingredients

Active Ingredient: Zinc Oxide 20% (Non-nano)
Inactive Ingredients: PURIFIED WATER (0), ALOE BARBADENSIS LEAF JUICE (0), CAPRIC CAPRYLIC TRIGLYCERIDES(0), SORBITAN STEARATE (COCONUT BASED) (1), PINE WOOD RESIN (0), VEGETABLE GLYCERIN (0), CETYL DIMETHICONE (0), HYDROGENATED CASTOR OIL (0), MAGNESIUM SULFATE (EPSOM SALT) (0), SUNFLOWER OIL, JOJOBA OIL (0), ASCORBIC ACID (VITAMIN C) (0), TOCOPHEROLS (VITAMIN E) (1), OLIVE OIL (0), RASPBERRY SEED OIL (0), CRANBERRY SEED OIL (0), HYALURONIC ACID (MADE FROM VEGETABLE) (0), GLUCOSE & GLUCOSE OXIDASE AND LACTOPEROXIDASE (0), PAPAYA (0)