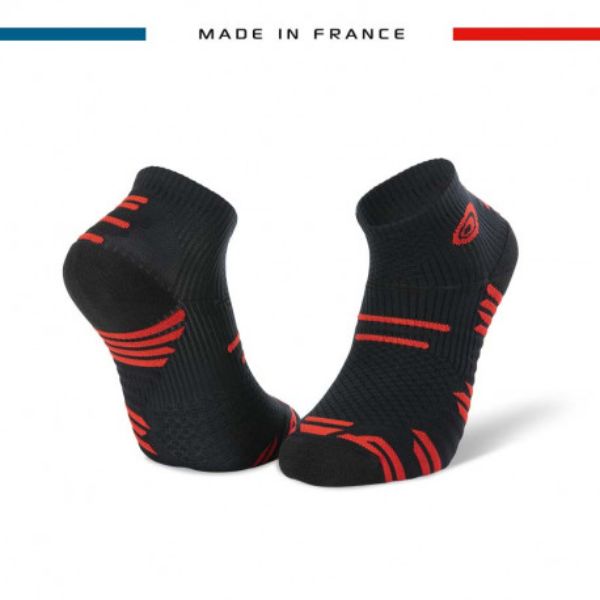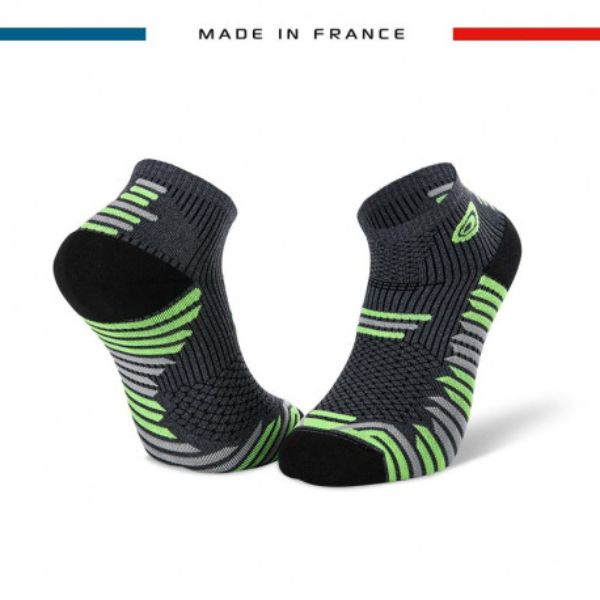 BV SPORT - Trail Elite Socks
给我们发送有关此产品的电子邮件
DESCRIPTION:
Made in France, the  TRAIL ELITE ankle socks are technical, comfortable, resistant and ultra-reinforced, these low-cut socks are adapted for Trail practice over all distances.
They have targeted reinforcements on strategic points of the foot and a stabilizing support at ankle level while maintaining optimal comfort. With its ventilated mesh, it quickly wicks away perspiration to stay cool and dry during outings.
 Because we make it a point of honor to adopt an eco-responsible attitude, the packaging of this product is designed entirely with recyclable materials.
FEATURES:
ULTRA REINFORCED 3D ANATOMICAL INSOLE
Technique: Combination of 2 types of mesh (thick and fine).
Action : Protects contact areas, optimizes proprioception and improves foot stabilization.
Benefits : Reduced friction and heat build-up in the sole.
360° SUPPORT AND STABILISATION OF THE FOOT AND ANKLE
Technique: Ribbed mesh positioned at the ankle joint.
Action : Maintains and stabilizes the ankle without compressing.
Benefits : Optimal ankle support during the stride.
ACHILLES TENDON PROTECTION
Technique: Loop mesh located at the level of the Achilles tendon.
Action : Protects sensitive structures and absorbs shocks.
Benefits : Provides targeted protection.
VENTILATED MESH
Technique: Lightweight, honeycombed mesh on the top of the foot.
Action : Accelerates thermal regulation. Optimal ventilation.
Benefits : Effectively wicks away perspiration.
HEEL AND TOE REINFORCEMENT
Technique: Mesh in loop located at the level of the tiptoe and the heel.
Action : Limits heating and friction on the extremities of the foot.
Benefits : Improves comfort and limits the appearance of blisters.
REINFORCEMENT IN THE LACING AREA
Technique: Looped mesh.
Action : Limits heat build-up on the upper part of the foot in contact with the lacing area and the tongue of the shoe.
Benefits : Improves comfort and limits pressure due to lacing.
WIDE BORDER
Technique: Discharge strip on the upper edge of the sock.
Action : Maintains the sock effectively without tourniquet effect.
Benefits : Improves stem hold.